by Scott Terrell, DVM, DACVP, Director of Animal & Science Operations, Walt Disney Parks & Resorts
With Father's Day right around the corner, it's the perfect time to focus on dads and their importance in the animal world. Our animal care team continually cares for more than 2,000 animals at Walt Disney World Resort, and we are always learning new things about their behaviors and family dynamics.
Some species – such as gorillas – have great paternal instincts and play an active role in rearing their offspring. In fact, we have an exceptional gorilla dad here at Disney's Animal Kingdom – Gino. Gino is the adult male leader of our family troop of western lowland gorillas.
Gino has been at the park since it opened in 1998 and has fathered six offspring during his time with us. Most recently, he had a proud papa moment in early May with the birth of his daughter, Grace.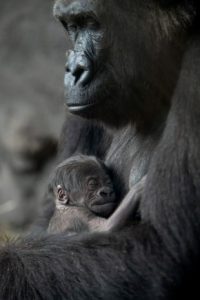 As the leader of his troop, Gino helps maintain a well-balanced dynamic among all the members within the family, which includes two adult females, Kashata and Azizi, and their offspring, Lilly (9), Cory (4), Flint (4), and baby Grace. Gino's role in the family isn't all that different from a human dad – he protects the entire group, serves as a role model for the youngsters, and keeps the peace if things get a little too rowdy.
You'll often see Gino playing with his older offspring, or interacting with enrichment items near them to model behaviors, such as climbing or searching for food. By engaging in playtime, Gino's involvement also allows the adult females to have a break from the kids' rambunctious behavior. He likes to play in a "rough and tumble" manner with the boys and big sister Lilly, and when Grace is a little older, Gino will sit close by and very gently pat at her to play with her.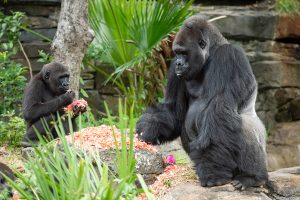 As young gorillas grow, they tend to push the boundaries of the family rules. Gino is skilled as the gentle disciplinarian of the troop – he knows when it's time to correct his offspring's behavior with teachable moments through some tough love. For instance, if one of his sons is doing something they shouldn't, Gino may charge at him, causing him to run away from the area and stop the behavior. This lets the little one that what he was doing was inappropriate without being too aggressive.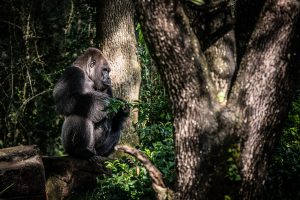 Gino and his offspring offer hope for the future of western lowland gorillas, a critically endangered species with a declining population in the wild due to hunting and habitat loss. As part of the Association of Zoos and Aquariums, our animal care team works with other accredited zoos to participate in cooperative Species Survival Plans for responsible breeding of endangered species, such as gorillas, so they will have healthy, genetically diverse families for years to come.
Want to learn more about gorillas at Disney's Animal Kingdom and the work we do to conserve this critically endangered species in the wild? Visit DisneyAnimals.com.