by Michael Ramirez, Editorial Content Director, Disneyland Resort
There are many attractions that have made their mark inside Disneyland park over the years, but few have stayed as prominent for the last 60 years as the Disneyland Monorail, Matterhorn Bobsleds and Submarine Voyage, which is now the re-imagined Finding Nemo Submarine Voyage.
Let's take a look at how each attraction has evolved over the years towards Walt's vision of constant innovation and imagination!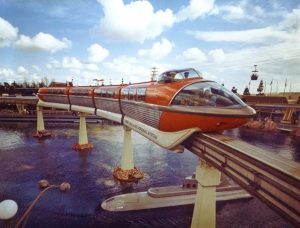 Disneyland Monorail
For many, it is no surprise that Walt Disney embodied a love for trains and railroads growing up. He also was an innovator with dreams to fly across the skies. With the help of his Imagineers, he was able to plan, create and reveal the Disneyland-Alweg Monorail – the first daily operating monorail system in the Western Hemisphere. Walt Disney engaged his passion for advancing the future of locomotion all while providing fun and efficient transportation for all.
To this day, the Disneyland Monorail still transports guests throughout the Disneyland Resort. There are now two locations for entry: Tomorrowland station and the Downtown Disney District station.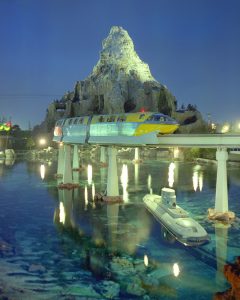 Matterhorn Bobsleds
Thrilling guests for decades, Matterhorn Bobsleds are a twisting, turning, high-speed roller coaster that treks the Alpine slopes through icy caverns and down frosty tunnels for a final splashdown.
Not only was the mountain-theming innovative, but at its opening in 1959, Matterhorn Bobsleds was also the first tubular steel coaster ever built and the first to allow multiple cars to run on one track at the same time. The Matterhorn Bobsleds are unique to Disneyland and do not appear at any other theme park, so it is an absolute must-do for everyone coming to visit the Disneyland park. Fun Fact: the attraction was inspired by the 1959 Disney live action film, "Third Man on the Mountain." which used the Matterhorn in Switzerland as its primary location.
Since then, an Abominable Snowman was added to the attraction in 1978 for guests to see and hear throughout the length of the ride. In 2015, he received a transformation to give him a whole new look. This attraction has been a smash hit for decades, so for all you fans out there, make sure to wave to the Abominable Snowman as you slalom down the slopes!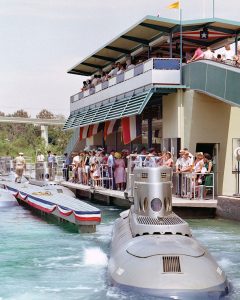 Submarine Voyage
In 1959, the Submarine Voyage was an amazing new attraction that took guests on an underwater journey to the North Pole from 1959 to 1998. When it opened alongside the Disneyland- Alweg Monorail and Matterhorn Bobsleds, the ocean journey excited and enthralled everyone that came to voyage!
Fans of the original attraction may remember the giant squid, the mermaids and the journey through the ancient ruins of lost lands. Now, in its re-imagination, Finding Nemo Submarine Voyage takes guests aboard a submarine that "dives" into a totally immersive ride-through family adventure. The attraction takes its inspiration from the humorous and heartwarming fish characters introduced in the 2003 Disney and Pixar film, "Finding Nemo." To this day, everyone is still thrilled to be helping the elite members of the scientific undersea diving expedition Nautical Exploration and Marine Observation (N.E.M.O.) Institute.
As Walt Disney once said, "We keep moving forward—opening up new doors and doing new things—because we're curious. And curiosity keeps leading us down new paths. We're always exploring and experimenting."
It is because of the imaginative foundation behind these attractions that have made them historic staples within Disneyland park.
For more information and history on this first major expansion, check out our post on A Look Back at June 14, 1959. If there ever was a good time to visit the Disneyland Resort, it is now!
What are you favorite memories of these beloved attractions?