by Nikki Moreno, Public Affairs Director, Aulani, A Disney Resort & Spa
Did you know that Aulani, a Disney Resort & Spa boasts the only private snorkeling lagoon on O'ahu? At the serene saltwater lagoon, Rainbow Reef, you can take the plunge and swim up close with Hawaiian reef fish.
I am excited to share that Aulani Resort has just introduced two new programs that offer up-close encounters with the dazzling marine life at Rainbow Reef, located in the Waikolohe Valley pool area.
Underwater Explorers is the ideal experience if you want to try scuba diving, but are not scuba-certified.In this two-hour experience, you'll start with a 25-minute lesson on the basics of scuba equipment, diving and safety procedures. You'll get to practice the dive skills you've learned then enjoy a free swim through the crystal clear waters of Rainbow Reef.
During your dive, you'll see colorful marine life, like butterflyfish, angelfish, surgeonfish and tangs. You may even catch a glimpse of one of Aulani's hidden Menehune (men-neh-HOO-nay). Because Rainbow Reef is a man-made lagoon, it offers a safe, high-visibility environment where you can dive without unpredictable waves or currents.
Underwater Explorers is ideal for scuba beginners, ages 10 and up. Included in the experience are the use of mask, fins and a wetsuit, a complimentary flask and Rainbow Reef fish ID card to take home, and a video of your experience. Cost for the Underwater Explorers program is $189.00 per person, plus tax.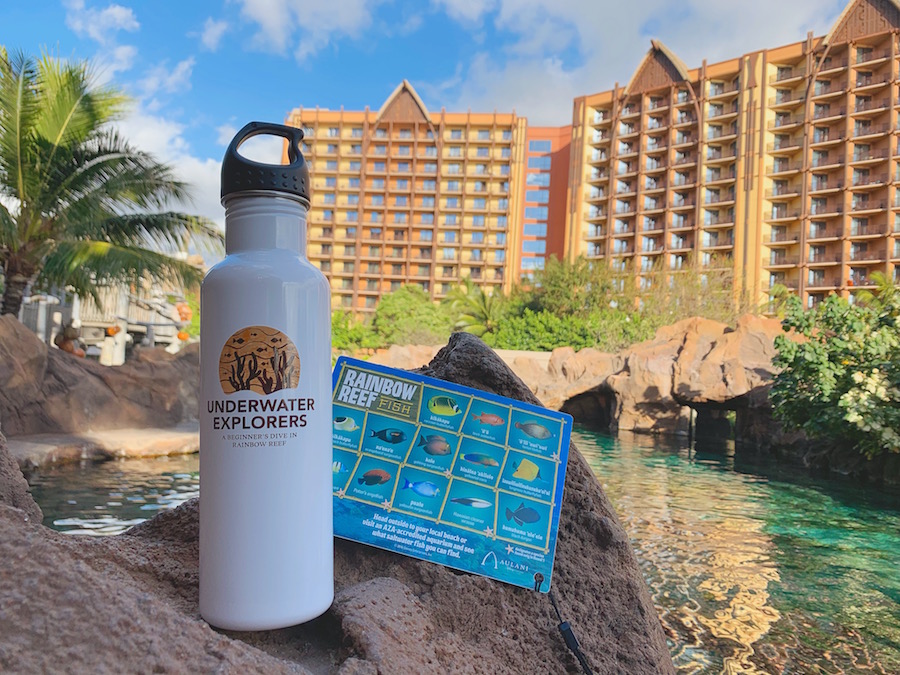 The Rainbow Reef Fish Feeding Experience is a fun way for you to have an up-close interaction and learn about the many tropical fish who call the local waters home. Aulani's animal programs biologists start with a brief introduction of the fishes in Rainbow Reef. You'll see the differences between the many species of fish and learn what the fish eat. For example, some are herbivores, some are carnivores and some are omnivores–wow!
With a better understanding of your new fish friends, you'll have a chance to feed them while standing on the Rainbow Reef walkway, also a gorgeous photo spot. The fish feeding experience is about 15 minutes and costs $7 per person.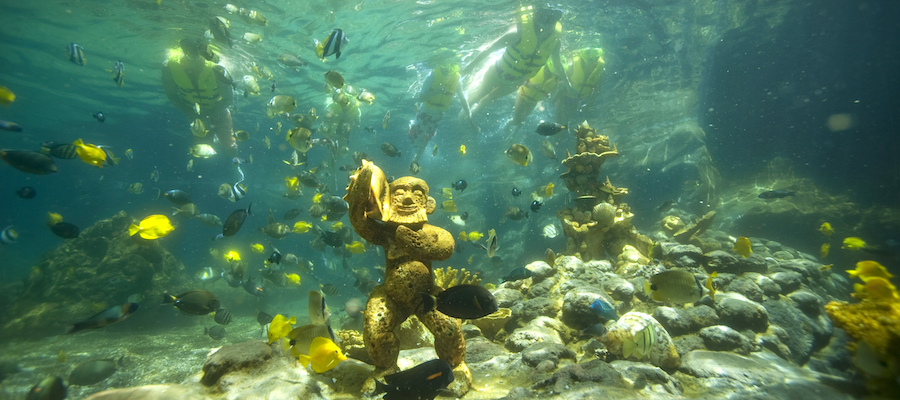 To learn more the incredible marine life encounters available, check out Rainbow Reef at Aulani, a Disney Resort & Spa.
Which Rainbow Reef activity would you like to try?