So, we thought we needed a weekend away from our everyday life. A weekend to connect with each other and escape from the stress of our daily responsibilities. Naturally, my mind went to Walt Disney World first! But this wasn't to be a normal trip-no, we decided to not go to the parks. We decided to not worry about getting up early, not worry about rope-dropping, not worry about running from attraction to attraction. We were going to hang out at the resort. Swim in the pool. Go to Disney Springs. It sounded nice and relaxing in my head.
How did it turn out, you might ask? For the most part, it was relaxing! We ran into terrible traffic because I-95 was closed in Jacksonville, which added two hours to our trip. The kids traveled really well, so it wasn't too stressful; it just gave me extra time to serenade my family with my Disney trip playlist. We were so ready to get out of the car and excited to check in to Disney's Caribbean Beach Resort.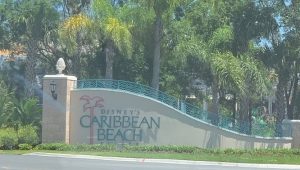 I must say that the lobby at Old Port Royale was absolutely beautiful! It really felt as if we were in a tropical location, and it really felt like we were at a deluxe resort with all of the seating and places to relax. There were so many couches and seats where we just sat and talked for a few minutes while we watched the people mosey by.
Our room was in the Jamaica section, so we hopped in the van and drove over. I was able to park directly under the Disney Skyliner as it was going through test runs! I am SO VERY EXCITED about the gondolas! They looked much larger in person and were moving at a good clip. The designs were so cute! I am having a hard time picking my favorite one.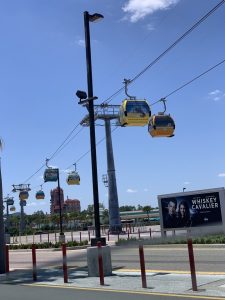 As we were trying to find our room, we met Mike, who is a manager over mousekeeping, and he escorted us directly to our room. It was such a nice gesture because by that time, we were getting a little tired and hungry, and he started our trip out on a great foot. I wish I would have taken his picture, but I did send a #CastCompliment to WDWToday on Twitter. It is a great way to let Disney know what great cast members they have!
We walked over to the Fuentes del Morro pool, which is themed to a pirates paradise. It was only a 5-10 minute walk, and it is so pleasant to walk through the island, Caribbean Cay. They had so many activities for the kids at the pool-a DJ, games, the slides-and my kids thoroughly enjoyed them. I may have dozed off laying on the pool lounge chair
After swimming, we took a bus to Disney Springs to meet our best friends who moved to Florida last year. It was so nice to see them again! We decided to eat at Blaze Pizza. It was really chaotic trying to figure out what we were supposed to do, but man, was that pizza good! Now that we know what to expect, I think we will be more adventurous with our pizza toppings next time. After dinner, we just walked around Disney Springs and checked out some of the shopping.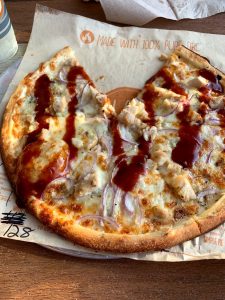 The next morning, we experienced the only hitch in our stay. At 6:42 a.m., we received a knock on the door. Mousekeeping was wanting to know what time we were checking out. My wife answered and said we weren't supposed to leave until Monday, and asked them to hold on a second until I could get to the door. By the time I opened the door again, the person was gone, without a trace. Now I was worried that there was a mix-up, even though I verified the dates on my MDE app, so I went to Old Port Royale and had them re-verify everything for me. It was all good! When we came back to the room that day, we had this great decoration!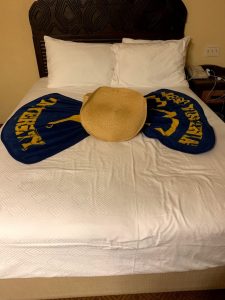 We decided to swim in the Jamaica quiet pool, which was about a minute's walk from our room. It was so nice! It was a really large pool with not many swimmers. We ended up swimming there for the rest of the trip! We decided we wanted to see Aladdin, so we bought some tickets and went back to Disney Springs. The kids wanted to eat at T-REX, so we hiked over there. I couldn't find any reservations, but I have a Landry's Select card, so we were seated in about 5 minutes. The food was enjoyable, and you really can't beat the atmosphere there. T-REX and Rainforest Cafe are two of our favorite restaurants at Walt Disney World.
We then went to the AMC theater and met my friend, Bee, to see the show. One of the best things about the Disney community is the friends that you make and meeting them in person is even better! I had met her before at the Indy Disney Meet, and it was just like seeing an old friend! The movie was fantastic! We all loved it-it was hard to not sing along, and my youngest daughter was literally on the edge of her seat for some parts of it! At the end, there was such a round of applause!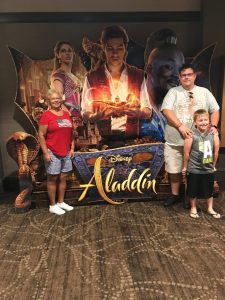 After we went our separate ways, we did some more shopping that we were not able to finish the previous night. We ate dinner at D-Luxe Burger. I loved it, but my family wasn't as impressed. Then we went back to the resort and went swimming.
Sunday, we started the day with a visit to church with our best friends. It was nice to take that time to focus on what is truly important and reflect on how God has blessed us.
We then went back to Disney Springs (I know!) to pick up the phone cases I bought at D-Tech at the Marketplace Co-op, and we decided to eat lunch at Wolfgang Puck Express. Their pizza was very good and was plenty for two people. I wish we had the dining plan this trip, because that would be a good use of a credit!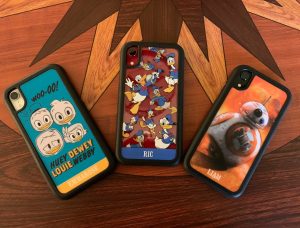 Then we went back to the pool. We met a very nice boy and his grandmother from the UK, and he played with our kids for a little while. After swimming, we packed our bags so we could get an early start, and then we went to dinner at Sebastian's Bistro.
I was very excited to try this new restaurant because I heard several good things about it. We started with a kid's order of conch fritters, the Caribbean pull-apart rolls, and seasonal tropical fruit. The conch fritters were amazing, and the kid's portion was perfect since I am the only person in the family who likes seafood. The rolls were good, and the guava butter was the best spread, although my wife and I enjoyed the Caribbean jerk oil as well.
I had the sustainable fish (Mahi Mahi) while my wife had the Jerk Chicken and my older daughter had the Grilled Skirt Steak "Chimichurri." My younger kids had pasta with marinara sauce and macaroni and cheese. My fish was excellent. The Jerk Chicken was good as well, but it is something that we make at home, so it didn't wow us. My daughter's steak was very good as well. It was cooked red, I guess medium or medium-rare, since it was skirt steak, and it was a testament to how good it was, because my daughter doesn't like to eat pink meat. She loved it, and so did I!
We ended the with dessert. I got Mile Marker Zero (chocolate-covered key lime pie pops), my wife and daughter split the Warm Chocolate Pudding while my younger kids got the Pineapple Cloud with Banana and Orange and Vanilla Gelato. We all liked the desserts except the Pineapple Cloud. It was kind of like pineapple foam, and my daughter just didn't like it.
Early the next morning, we headed home, ready to go back and start planning our next trip in earnest.
My take-aways from this trip:
Disney is a great place to go even if you don't go to the theme parks. The resorts are awesome places to relax, and they have lots of activities
If you plan on spending any amount of time at Disney Springs, you need to treat it as a park visit. It is different than shopping at your local mall. It is a sprawling complex set on 120 acres. You will walk a lot, and it can get hot. Stay hydrated and make sure the kids are fed!
It is great meeting up with friends at Disney! I hope to continue to do so, both with old friends and new ones!
You can find Ric on